Tower over your competition with these striking Pop Up Towers! Comes with a 10 year guarantee! Take minutes to construct, lightweight and easy to transport.
Do not miss out on this fantastic deal! Buy Now!
Also see our pop up stand bundles section for fantastic offers!
Order online now or call us on 01782 264110 for free friendly advice or to order!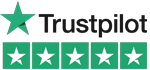 Pop up Tower Display Stand
Fast and easy to assemble
Similar to the well known pop up stand
Collapses down into a small storage case
Full colour 360 degree graphics makes the pop up tower stand out
perfect to pair with pop up stands to create striking pop up displays
Pop up tower available in four sizes
Similar to the well known pop up stand, the Pop Up Tower is just as durable, portable and lightweight as the pop up stand. The tower ranges from the smallest size of 1495mm to a huge 3170mm. It literally allows you to tower over your competitors. They can also be used to create striking exhibition displays, see our pop up stand bundle page for tower and stand packages.
Below are a few pictures showing just how easy they are to set up, as well as the optional case. Just like the pop up stand, the tower takes minutes to put up and takes hardly any effort at all.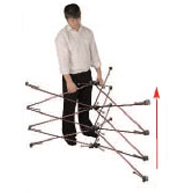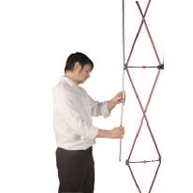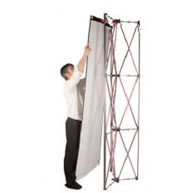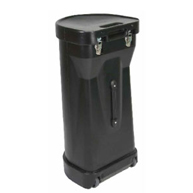 We're Here To Help
Unsure of which product would best suit your needs? Or you need other information?
Contact us now and one of our friendy, knowledgeable team will be able to help.